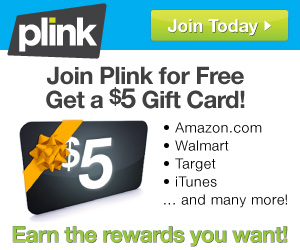 In case you have missed my past posts about this great new rewards program, I wanted to remind you that when you sign up for Plink, you will get a FREE $5 Amazon Gift Card!
From shopping at the GAP, to taking in a movie, to picking up coffee at Dunkin' Donuts and filling the gas tank at 7-11, Plink is a rewards program that pays you back for your every day spending.
Here's how it works:
Register one of your credit  or debit cards (*Plink has bank level security)
When you make purchases with your credit card at any of the stores/restaurants/establishments with which Plink has a relationship, you'll earn more points, which you can convert into gift cards to Amazon.com, Home Depot, Walmart and more.
Why Trust Plink?

Your account is safe with Plink. We use bank-level encryption to secure your login credentials. We establish a read-only connection to download your transactions, but we cannot view or access your card account number.

We only use your transactions to track your purchases so we can award you with virtual currency or other incentives. Your personal information is never sold or shared.
Once you get your $5 gift card, you just keep earning points for your everyday spending – and those points can be turned into more gift card rewards!
Plus, thru Sunday, August 11th, you can earn a bonus 50 Plink Points just for downloading the FREE Dunkin' Mobile App (on iPhone or Android). Make life simple with mobile payments and coupons, store locators and virtual gift cards – all on your mobile device!
Bonus points from Plink will be awarded within 7 business days.
This post contains affiliate links, which help to support Kosher on a Budget. For more information, see my disclosure policy.