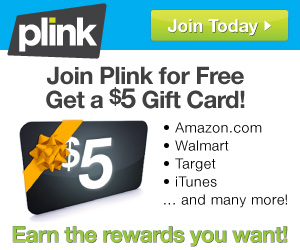 There is a new rewards program called Plink. Most of the offers right now are for restaurants – which unfortunately aren't kosher, but they do have relationships with the GAP, movie theaters, Dunkin' Donuts and even 7-11.
Right now, when you sign up for Plink, they will give you a FREE $5 Gift Card to Amazon!
Here's how it works:
Register one of your credit  or debit cards (*Plink has bank level security)
When you make purchases with your credit card at any of the stores/restaurants/establishments with which Plink has a relationship, you'll earn more points, which you can convert into gift cards to Amazon.com, Home Depot, Walmart and more.
Why Trust Plink?

Your account is safe with Plink. We use bank-level encryption to secure your login credentials. We establish a read-only connection to download your transactions, but we cannot view or access your card account number.

We only use your transactions to track your purchases so we can award you with virtual currency or other incentives. Your personal information is never sold or shared.
I tested out Plink this morning by having my husband sign up (he's a willing guinea pig!). Within an hour, his account was credited with the 500 points – which he was able to quickly use to "purchase" a $5 Amazon gift card. The gift card will be mailed to him within 48 hours.
If you don't want to continue your account once you get your $5 Amazon gift card, you can always cancel it. But the rewards seem pretty sweet – and I'm always game for more FREE Amazon gift cards!
This post contains affiliate links, which help to support Kosher on a Budget. For more information, see my
disclosure policy
.