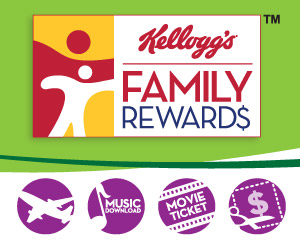 Have you signed up for the Kellogg's Family Rewards program yet?
Brand reward programs are a great way to save more and earn free gifts. Just like My Coke Rewards or Disney Rewards, Kellogg's has started its own rewards program: Kellogg's Family Rewards.
Once you sign up for Kellogg's Family Rewards, you just enter codes from specially marked Kellogg's products. But just like Pampers Rewards, you don't have to buy products to get points, because there are tons of free codes available.
Right now, for example, you can get 50 FREE Kellogg's Family Rewards Points when you sign up and enter the code 2013KFRBonusCode.
Here are some other codes you might be able to use:
50 Point Codes
kfrgiftofsavings
KFRDELTAENTERNOW
MARIECLAIRE50PTS
eresunganadorhoy
foodnetmag50pnts
redbookKFR50pnts
goodhousemag50pt
KFRFREEGROCERIES
MYFAVCHARACTER50
JOINKELLOGG2SAVE
25 Point Codes
EZ25POINTSFORKFR
FAVHOLIDAYCOOKIE
20 Point Codes
TAKECAREOFYOU20P
KFRNOWONFACEBOOK
HOWITWORKS20PNTS (new members only)
10 Point Codes
KFRFAVPOPTARTS10
This post contains affiliate links, which help to support Kosher on a Budget. For more information, see my
disclosure policy
.