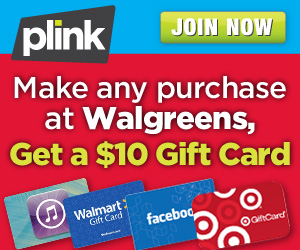 Just a reminder that today is the last day to take advantage of this great money maker deal at Walgreens!
Woohoo! There's a new Plink offer – and based on the awesome feedback I got from those of you that did this the last time, I just knew I had to share.
Plink is a rewards program, which pays you for shopping at stores like Old Navy, the GAP, movie theaters, Dunkin' Donuts and even 7-11.
Right now, when you sign up for Plink, and make any purchase at Walgreens, you'll get a $10 gift card to Amazon, Target, or iTunes — your choice.
Here's how it works:
Register one of your credit  or debit cards with Plink (*Plink has bank level security)
Make a purchase at Walgreens by 9/15 on the registered card
Earn a FREE $10 gift card to your choice of Amazon, Target or Walmart within 7 days
This is an awesome way to maximize your savings on the weekly Walgreens deals!
I tested out Plink several weeks ago, as did my husband. We both got our credits right away (at the time, it was a different offer, but we got ours without a problem).
And here's what another happy Plink-using KOAB reader had to say:
Last week you posted about a plink deal at old navy. I signed up and WOAH!!! i went to old navy and got major deals (including matching shabbos dresses for my girls for $8 each!!!) so that alone was great. then i checked plink a few days later and besides the 2000 that you posted about i got another 500. So there's $25 right there. then yesterday i looked again and they added another 1000 points. All in all $35!!! thanks so much. this made a serious dent in my magnatiles fund!!
Worried about the safety of Plink?
"Your account is safe with Plink. We use bank-level encryption to secure your login credentials. We establish a read-only connection to download your transactions, but we cannot view or access your card account number.
We only use your transactions to track your purchases so we can award you with virtual currency or other incentives. Your personal information is never sold or shared."
Also, you can always cancel your Plink account after you get your FREE $10 Amazon gift card, if you'd rather. (Although as you can see above, you'll keep earning points for FREE stuff – so I'll doubt you'll want to.)