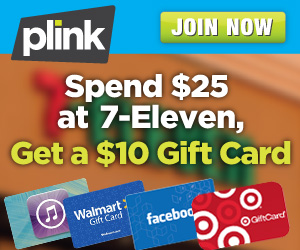 Woohoo! This new Plink offer is perfectly timed: Go to 7-11 tomorrow to get your FREE slurpees, fill up with a tank of gas and walk away with a $10 gift card!
Let me back up and explain:
Plink is a rewards program, which pays you for shopping at stores like Old Navy, the GAP, movie theaters, Dunkin' Donuts and, yes, 7-11.
Right now, when you sign up for Plink, and spend $25 at 7-11 (less than a tank of gas), you'll get a $10 gift card to Amazon, Target, Walmart or iTunes — your choice.
(Note that the original $25 must be spent at 7-11 — either at the pumps and/or in the store — but the gift card can be spent however you like.)
Here's how it works:
Register one of your credit  or debit cards with Plink (*Plink has bank level security)
Spend $25 at 7-11 by 7/21 on the registered card
Earn a FREE $10 gift card to your choice of stores within 7 days
I tested out Plink several months ago, as did my husband. We both got our credits right away (at the time, it was a different offer, but we got ours without a problem).
Worried about the safety of Plink?

"Your account is safe with Plink. We use bank-level encryption to secure your login credentials. We establish a read-only connection to download your transactions, but we cannot view or access your card account number.

We only use your transactions to track your purchases so we can award you with virtual currency or other incentives. Your personal information is never sold or shared."
Also, you can always cancel your Plink account after you get your FREE $10 Amazon gift card, if you'd rather. (Although as you can see above, you'll keep earning points for FREE stuff – so I'll doubt you'll want to.)